Happy Chinese New Year!
Chinese New Year – or the Lunar New Year – is one of the longest holidays of the year. It's a time for traditional customs and celebrations, and is the highlight of every new year. Preparations start as early as December, and last up till the end of January.
Now that celebrations are underway at full swing, let's take a look at how this festive season is celebrated.
Day 1
The first day of the Chinese New Year, and the most important day of the festive season. Chinese people around the world celebrate by reuniting with their families and practicing traditions together.
It's common knowledge that this first day is celebrated with a bang – quite literally! People set off firecrackers and fireworks to welcome the new year, and watch lion and dragon dance performances. Families don new clothes and visit each other to wish Happy Chinese New Year, while children receive red packets.
Day 2
It's a popular taboo for married women to only return home on the 2nd day of Chinese New Year, as people believe that it's bad luck for a married daughter to come back on the first day. This day is then used for families to welcome their daughter and son-in-law home.
Specific traditions vary from country to country, but it's common to bring gifts such as hampers, food or flowers home.
Day 3
In ancient times, the third day of Chinese New Year was considered to be an unlucky day. People would stay at home and pray to their ancestors, spending the day offering prayers and sacrifices. This is because people believed that evil spirits roamed the earth during this day, and it would be bad luck to go outside.
Some people would brave the outdoors to visit the graves and tombs of their ancestors, instead of house-visiting for the third day. They believed that their ancestors would protect them from evil, therefore they would be safe.
Day 4
People believed that this was an auspicious day, right after the unluckiest day of the Chinese New Year. They celebrated this day by honouring the Stove God in particular, as it was said he returned from heaven to earth.
Families would burn incense and light candles to worship the gods, and come together for a big feast. They would enjoy luxurious food such as fish, chicken, pork, fruits and alcohol, while singing praises to the gods.
In recent years, the fourth day is a common day for people to gather with their extended family and relatives for a big meal!
Day 5
It's a day of wealth!
People will throw their doors and windows open in order to welcome the god of wealth into their homes. Some even set off fireworks and firecrackers as they believe it would attract the god's attention. This would help ensure that they are in his favour, and he will bring about good fortune in the days to come.
Nowadays, it's common for people to cash in their angpao money on this auspicious day. They believe that by doing so, they would be blessed with wealth in the year ahead.
Day 6
People will throw away old, ragged clothes and rubbish on this day, and perform another round of spring cleaning. They believed that doing so would drive the spirit of poverty away from their home.
Some families will set off firecrackers and reopen their businesses on this day, in order for a fresh start.
Day 7
In old folklore, this is the day that the mother goddess created human beings. This day is called 人日 in Chinese, to represent the day that all humans were created. It's also celebrated as 'everyone's birthday'!
Some people eat qibao porridge – a gruel with seven kinds of vegetables – to pray for a healthy and prosperous year ahead. In some villages in China, the village folk would make torches out of straw and hay, and light them before walking through the village. This was to pray for no fire-related disasters in the year ahead.
Day 8
According to legend, if the weather on this day is bright and sunny, then there would be a good harvest for that year. If the weather was cold and rainy, this would signify a poor harvest season ahead.
It's a popular tradition in China to set animals free on this day to show respect for nature. People would buy animals such as birds and fish, just to set them free on this day.
Day 9
This day is said to be the birthday of the Jade Emperor, the ruler of the heavens. All the deities and gods of heaven and earth celebrate this day, and grand ceremonies are held in temples. People visit temples to make offerings and worship the Jade Emperor to pray for a good year ahead.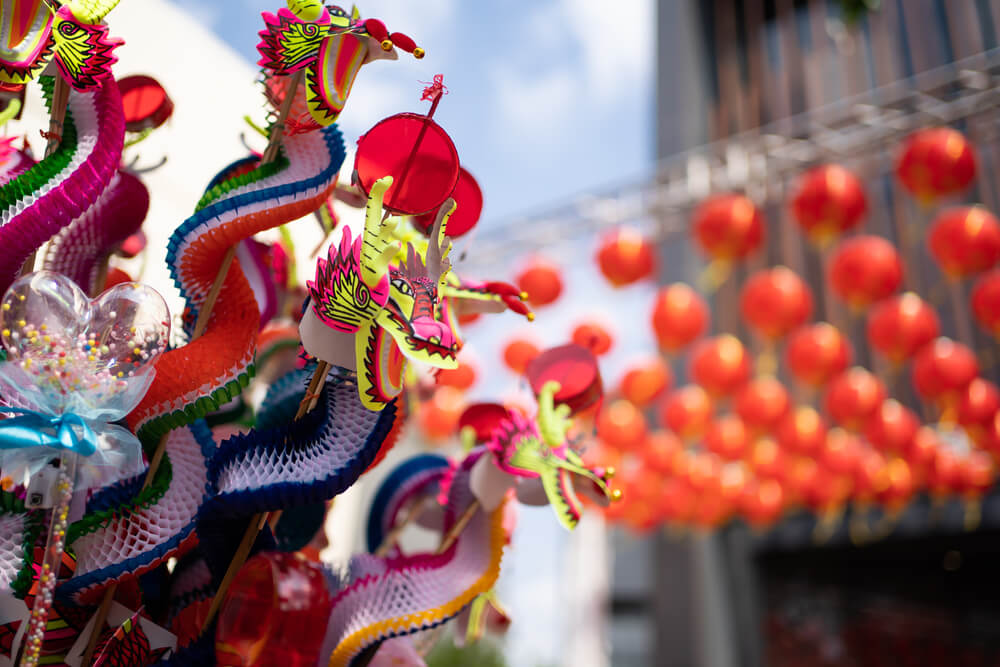 It's also a popular practice for people to set off firecrackers and fireworks at midnight. In olden times, people would set off firecrackers continuously until 4AM – we don't recommend you do this now though as you might get a noise complaint instead.
Day 10
The celebrations die down during these few days, but still went on strong in the older years. The tenth day marked the birthday of the god of stone, and it was forbidden to move any item made of stone. It was bad luck if you cut any rock, or built your house with stone.
Instead, families would burn incense and candles, and offer pancakes to honour the god of stone.
Day 11
This day is believed to be for father-in-laws to celebrate with their son-in-laws. The two men are supposed to drink and eat, and partake in any leftovers from the feasts before. Spend some quality time with your wife's dad this Chinese New Year!
Day 12 to 14
These days are reserved to prepare for the lantern festival on the 15th day. Families buy lanterns and candles, and make rice balls while spending time with their loved ones.
Day 15
The final day of Chinese New Year! This day is called the Lantern Festival, and traditionally marks the end of the Chinese New Year festivities.
Families light up lanterns and eat meat with rice balls, and children play games or guess lantern riddles. Back in the day, if you solved a riddle on a lantern belonging to someone else, they would award you with a prize!
It's also a special time where single men and women can gather together and meet, aside from celebrating their own family reunions. They would sit together under the night sky, and gaze at the full moon.
Shop with Simply Blooms Singapore Today
Visit us at Simply Blooms SG for the best flower delivery in SG! We carry a wide range of flowers online, from bloom boxes to flower baskets. We're your best buddy if you're looking for a cheap flower bouquet for last-minute occasions.
If you're looking for a last minute CNY gift, order your fresh flower bouquet delivery with us today! Browse our Valentine's collection, or learn more about us and what we do here as the best online florist shop in Singapore.