As the second month of spring, April's warm weather and colourful blooms have everyone in a good mood – even if some days are a little rainy for us Singaporeans!
But around the world, April is a month full of beauty and joy, with the arrival of spring and the blooming of flowers. It is a special time for those born in this month, as they have not one but two birth flowers associated with them: the daisy and the sweet pea.
These two flowers have different meanings and significance, but both embody the spirit of April and all the happiness that comes with it! Let's learn more about them.
What Do Daisies Represent?
The daisy, also known as the "day's eye," is a simple and delicate flower that symbolises purity, innocence, and new beginnings. It is often associated with the goddess of love and beauty, Venus, and is said to represent her attributes of simplicity and modesty. The daisy also represents loyalty and love, making it a popular choice for romantic gestures and as a gift for loved ones.
It's a popular summer flower, and embodies the sun. In some cultures, they are thought to bring good luck and prosperity. Overall, daisies carry a positive and optimistic message, reminding us to appreciate the simple things in life and to approach new beginnings with a sense of hope and purity. If you know an April baby, they're most likely a person with a very summery personality.
But as lovely as the daisy is, it doesn't exactly embody 'happy birthday'. Our suggestion is to go for bigger and brighter gerbera daisies instead. Those would definitely put a smile on someone's face! Check out our gerbera bouquets today and make it extra special with our free delivery in Singapore.
How About The Sweet Pea?
The sweet pea, on the other hand, is a fragrant and colourful flower that symbolises blissful pleasure, gratitude, and appreciation. It is associated with the goddess Aphrodite, the goddess of love and beauty, and is said to represent her attributes of joy and happiness. 
Its delicate beauty and sweet fragrance made the sweet pea a natural choice for a birth flower. Additionally, it represents the joy and pleasure of springtime and new beginnings! It was believed to have originated in Italy during the 17th century, and was first introduced to England in April of 1699.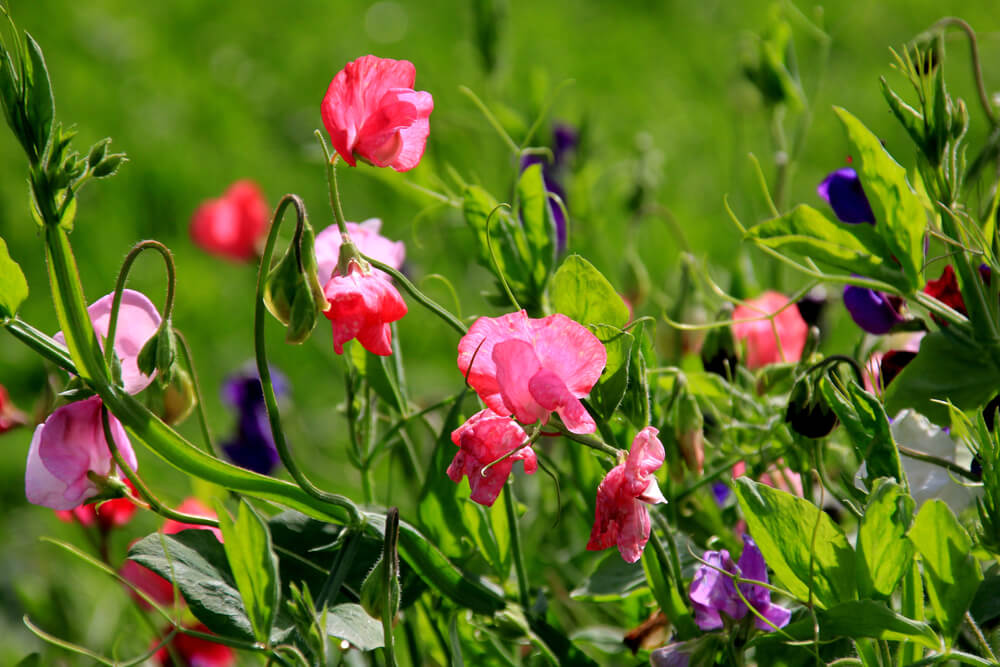 Just like this delicate bloom, April babies are sweet and wholesome. These people enjoy comfort food, take long baths with bath bombs and/or candles, or start new hobbies to release their overflowing creative inspiration. They're also all about being kind and spreading joy to everyone.
Celebrate A Birthday with Simply Blooms Today!
If you, your bestie, or someone else you know has a birthday in April, it's the perfect time to send them some flowers. Shop at Simply Blooms SG for the largest variety of fresh flowers in Singapore, or if you're looking for a flower bouquet in Singapore for any special occasion. 
Your #1 stop for fresh flower delivery in Singapore is right here – don't miss out on our exquisite floral arrangements!